Trees are very important within urban space. The benefits to the environment are visible: reduced pollution and higher soil permeability resulting in higher quality of life. To maintain this, trees need to be treated, maintained and well cared for. Tree trimming is one of the main actions that needs to be performed regularly to have quality branches, proportional symmetry and an overall healthy tree.
With techniques internationally considered as good practice, cutting-edge equipment and experienced team members, we at Largo Tree Service Pro carry out tree trimming services in Largo, Florida with precision, scientific basis, safety and respect of the tree and your property.
Call us today if you need expert tree trimming in an affordable price. We will help you get the advantages of proper tree trimming such as:
Survival of the tree.
Appreciation of the property
Increased security
Types of tree trimming and pruning
Largo Tree Service Pros offer different types of trimming and pruning in both residential and commercial clients such as:
Roughing Pruning
Selective removal of branches decreasing canopy density to increase light penetration into the canopy and will reduce its wind resistance.
Elevation Pruning
Removal of lower branches that obstruct streets or sidewalks.
Reduction Pruning
Pruning technique used to reduce the height of a tree canopy.
Pruning cleaning
Removal of dead, fragile or decayed branches, presenting an imminent risk of falling.
Forming pruning
Gives the tree a proper shape to grow and develop normally;
Emergency pruning
Removes fallen or damaged branches that can cause danger to people due to a storm.
Palm Tree Pruning
Most pruning of palm trees is done for the removal of dried or drying foliage, inflorescence flowers and fruit clusters, especially those that can become a potential hazard to people. It is not recommended to use climbing spurs to prune palm trees as this can injure their trunk.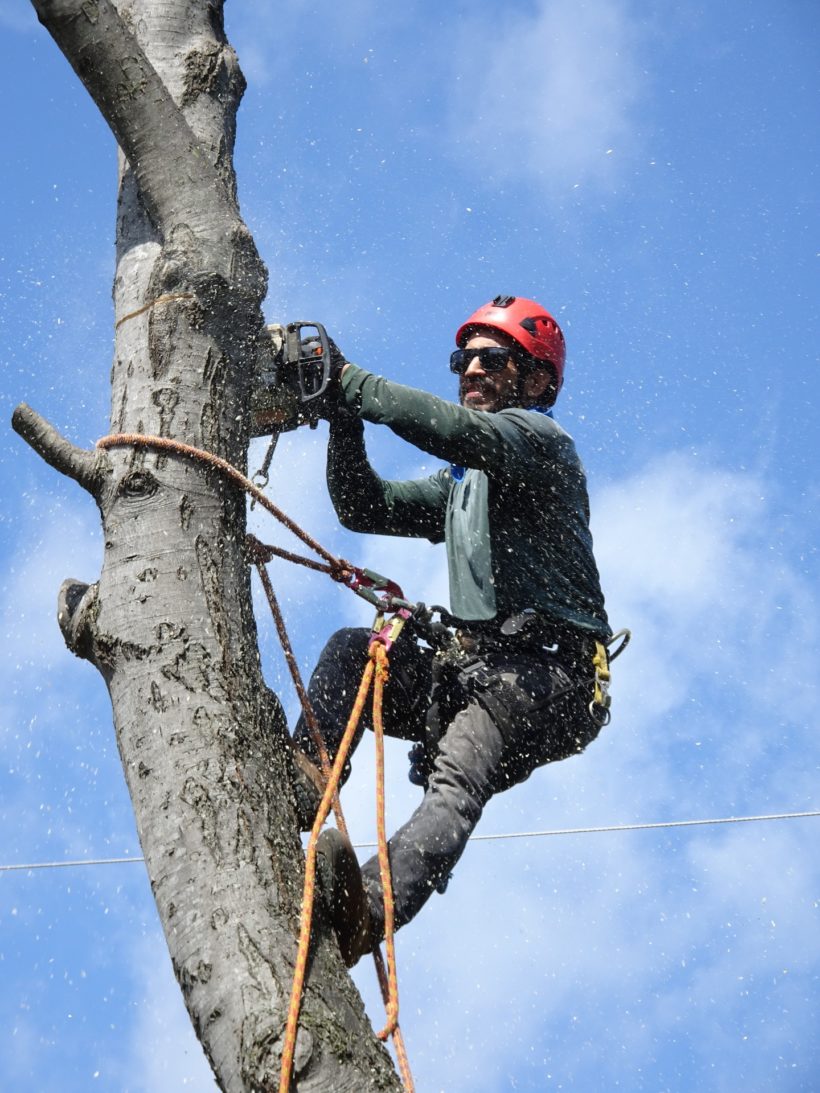 When should tree pruning be performed?
All trees require periodic trimming and pruning, but the frequency depends on the age, the species and the location of the tree.
Young trees need frequent pruning to develop a strong branching structure while old trees need it as well to remove unhealthy branches and prevent. The amount of pruning required is also related to the planting location. Trees located near utility lines or sidewalks need more frequent attention in order to avoid risks while those in wide space areas requires less. Choosing a species that is site compatible also help reduce the frequency of pruning and related costs.
In a yearly cycle, spring is not the time for trimming. It is not necessary to prune the branches at this time because it is growing. In summer, the trees should not be disturbed. Cuts may be minor for repair or hazard removal only.
In the fall, the trees are dormant. This is where you need to call in the professional and make all necessary repairs. Prepare the soil for nutrients that are important to the trees diet. Remove dead and diseased branches, cut tops to access sunlight. In the winter, The trees must rest and be protected from the cold, but this is also a time when emergency repairs are welcome.
Tree Trimming Cost
The price of tree trimming can vary greatly from one service to another. It is difficult to predict the exact budget instantly, because it depends on several factors that will be analyzed by the professional.
Tree size is an element that directly affects the price of the service. If it is disproportionately large, it will need to be refurbished and it will take longer. If it's just maintenance, the work is simpler and doesn't require as many repairs.
The location of the tree also changes the budget a bit. If it is in an easily accessible place the price may be more affordable. However, if it is too high or is located among other tree and establishment, high rated equipment will be necessary for the professional to perform his work.
The overall health of the tree is also a factor. What many people do not know is that a tree can be sick and in poor health. This can be revealed after a thorough analysis by the practitioner, who will evaluate all layers of the trunk, as well as the appearance of the foliage, and identify what condition and how it can be treated.
Call us today for a free no obligation quote. We will analyze the situation and give you one of the most affordable tree trimming costs in Largo FL.